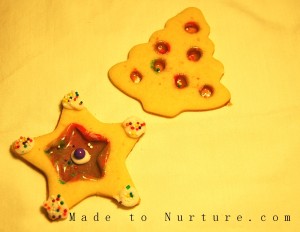 The Christmas crunch is on! Today my daughter and I made some awesomely delicious"Stained glass" Cookies. We used a basic sugar cookie recipe and added a twist.
Ingredients:
3 1/4 cups flour
1 1/2 tsp. baking powder
1/2 tsp. salt

1 1/3 cups of soft, unsalted butter
1 cup sugar

1 large egg
1 tbsp milk
2 1/2 tsp vanilla
1/8 tsp peppermint flavour (optional)

Crushed candy canes or clear, hard candies



Other things you'll need:


Parchment paper
Cookie cutters



What you'll do:


Whisk together the flour, baking powder, and salt.

Put unsalted butter and sugar in a separate bowl. Beat on medium speed until 
well blended and really fluffy. Add in the egg, milk, vanilla, and peppermint 
flavour. Beat until it is well combined. Gradually stir in the flour mixture until it is smooth and well blended. 


Put candy canes in a plastic ziplock and cover with a towel or cloth. Lightly 
hit your rolling pin on them to crush them.
   

Preheat oven to 375° F. 
Roll dough out until it is 1/4 inch thick. 
Use cookie cutters to cut out shapes. 
We had a bunch of different sized star cutters, so we cut a big star and then cut a little star in the middle of the bigger 
star. We also had Christmas tree cutters, and we made holes for "ornaments" with a straw.
   

Bake the cookies for about 4 mins. Take them out and fill 
the holes with the crushed candy canes. 


Bake for another 4-6 minutes, or until the bottom edges 
of the cookies are golden brown (by this time the candy should be melted).

Voila! Now you have some yummy, stained glass cookies.  
Enjoy :)