This French Toast recipe is sure to please. Whenever my kids have a
friend sleepover, we either make Pancakes or French toast. When I serve up my French toast, they are always coming back for more 🙂
One of my daughter's friends always chooses French Toast when she visits and once I asked her why & she replied, "I don't know what you put in it, but yours is the BEST!". It's always super flattering when kids love the food you make 🙂
So here's my special recipe…
What you'll need:
5-7 slices of bread (I like to use Light Sourdough Rye or French bread, but any old bread will do)
3 Large Eggs
1/4 cup Milk
1/4 tsp Cinnamon
1/2 tsp Vanilla
1-2 tsps Butter or Bacon fat
What you'll do:

I usually cook up some bacon to go with our breakfast, and because I'm a "waste not, want not" kinda gal, I use a bit of the bacon grease to oil the pan I make the French toast in. It also gives a little bit of a bacon flavouring to the French toast. And I have yet to meet someone who doesn't like bacon…
If you are making the French toast without bacon, use butter (not cooking oil or margarine… believe me, everything is better with butter).
Heat up your pan or griddle on Medium or just below.
In a bowl, whisk together the eggs, milk, cinnamon, and vanilla.
Dip bread into the egg mixture. Do not soak the bread in it unless you like soggy French toast. My family doesn't like soggy French toast, so I just dip it in until it is covered with the egg mixture and immediately place it on the heated pan/griddle. Cook about 1 minute or until the bottom side is golden brown, then flip it over. I usually lightly press down on the top of the French toast with the bottom of my flipper for a couple of seconds before flipping over.
Place on an oven safe dish and keep warm in the oven (set at 200° F) until all the French toast has been cooked.
Serve with Maple syrup drizzled on top, or you could try fruit, jam, whipped cream, or sprinkle on some icing sugar 🙂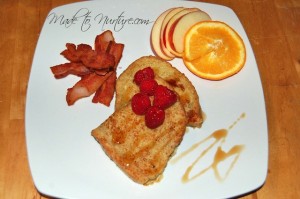 ENJOY!
(Printable Recipe below )
Melt butter or heat up bacon grease on Medium or just below.

In a bowl, whisk together the eggs, milk, cinnamon, and vanilla.

Dip bread into the egg mixture until it is covered with the egg mixture and immediately place it on the heated pan/griddle. Cook about 1 minute or until the bottom side is golden brown, then flip it over. I usually lightly press down on the top of the French toast with the bottom of my flipper for a couple of seconds before flipping over.

Place on an oven safe dish and keep warm in the oven (set at 200° F) until all the French toast has been cooked.

Serve with Maple syrup drizzled on top, or you could try fruit, jam, whipped cream, or sprinkle on some icing sugar 🙂