My daughter has been a great inspiration for blog posts this past week.  We talked about doing a handmade Christmas a couple of months ago and planned 
 

to make things like bath salts, fudge,
baked goods, hot chocolate gifts, etc.  With Christmas literally just around the corner, she's been on me to make a few of these things with her.  With work finally winding down, I've had a bit of time to make some bath salt with her. It's super easy and quick to do, and is a fantastic gift her friends and teachers are sure to enjoy.  I'm planning to give some to my internship supervisor and a few friends and relatives too.
For my bath salts, I like to add in Baking Soda, because it helps to soften and refresh dry skin, giving a silky smooth feeling. It also helps promote the elimination of toxins.
However, it should be noted that it is recommended that you consult your doctor before using if you are pregnant or have high blood pressure, due to the detoxifying effects of Baking soda.  That being said, you can always omit putting in the Baking soda in this recipe 🙂
In this recipe, we used Peppermint essential oil, as it helps improve the texture of greasy or oily skin and helps to nourish the skin. It also helps soothe achy muscles and joints.
Some of the benefits of Lavender essential oil is its calming effect, it is often used to treat skin disorders like psoriasis, acne, and wrinkles, it aids in reducing mental stress & anxiety, and is believed to strengthen the immune system. It also smells heavenly too.
Alright, enough about that, let's make some bath salt!
What you'll need…
4 cups Epsom Salt
1/2 cup Coarse Sea Salt
1/2 cup Baking Soda (optional)
1/8 cup Dried Lavender Flowers (optional)
20 drops Lavender Essential Oil
5 drops Peppermint Essential Oil
Red and Blue Food Colouring (optional)
How to make…
In a large glass bowl, mix together Epsom salts, coarse sea salt and baking soda.
    
Then add 20 drops of lavender essential oil and 5 drops of peppermint essential oil.

I like my bath to be lightly scented, so if you want a stronger lavender and/or peppermint scent, add a few more drops.
If you would like to add some colour to your bath salt, it's time to put in some food colouring (remember this is optional).  I like to "pre-mix" the food colouring before putting it in the bath salt mixture. Using a tablespoon, mix about 12 drops of red food colouring with 4 drops of blue, then pour into the bath salt mixture.  Stir well, until there are no clumps of food colouring and the colour looks even throughout.
 If you want more of a purple colour, add more.
Last, but not least, I like to add the dried Lavender flowers.  If you do not have any, no worries, adding them is totally optional 🙂
   
Variation…
Create designs by layering this bath salt with plain Epsom salt. It looks nice and fancy. You can even make different shades of purple to layer.
Storing…
Store your bath salts in an air tight container.  You can use glass containers with cork lids, ones with metal clasps, or ones with twist on lids such as Mason jars or Spice jars.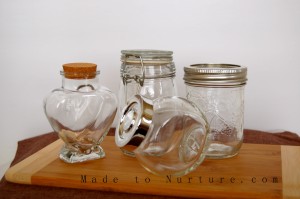 Hope you enjoy your bath salts 🙂