If you like sausage rolls and/or
turkey dinner, this is the roll for you.  Both of my children LOVE sausage rolls, and after having quite a bit of leftovers from Christmas dinner (we had only a few family members over and I bought an extra big bird), I was running out of things to make other than hot turkey sandwiches, cold turkey sandwiches, turkey dinner (again), turkey veggie soup… I wondered what Turkey dinner puff pastry rolls would taste like, so I went to the grocery store and bought some frozen puff pastry. Once thawed, I rolled it out and stuffed it with turkey, stuffing, potatoes and slices of bacon. I rolled them up and popped them into the oven. Oh my… they are delicious. Here's the recipe 🙂
Turkey Puff Pastry
1) Preheat the oven to 425° F.
2) Lay out some parchment paper and sprinkle with a little bit of flour.Roll out the puff pastry into a rectangle about 6 inches wide by 15 inches long (length of about 2 pieces of bacon). Pastry should be about 1/8 inch thick.
3) In a bowl, mix turkey, stuffing, potatoes, and gravy together.
4) Spread the filling onto the dough, in a line about 1 1/2 inches thick. Place bacon on top of filling.
    
5) Roll the pastry over the filling, so that it looks like a sausage roll.
6) Cut into 1 1/2 – 2 inch pieces. And slather on some melted butter.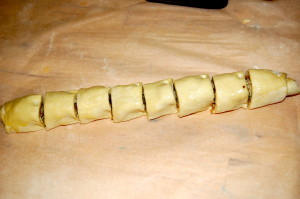 7) Bake for about 20 minutes or until golden brown.
8) Serve with gravy on top or with cranberry sauce. Try out my Cranapple Orange chutney with it. YUM
Printable recipe below 🙂
Preheat the oven to 425° F.

Lay out some parchment paper and sprinkle with a little bit of flour. Roll out the puff pastry into a rectangle about 6 inches wide by 15 inches long (length of about 2 pieces of bacon). Pastry should be about 1/8 inch thick.

In a bowl, mix the turkey, stuffing, potatoes, and gravy together.

Spread the filling onto the dough, in a line about 1 1/2 inches thick. Place bacon on top of filling

Roll the pastry over the filling, so that it looks like a sausage roll.

Cut into 1 1/2 - 2 inch piecesSlather on some melted butter

Bake for about 20 minutes or until golden brown

Serve with gravy on top or with cranberry sauce. Try out my Cranapple Orange chutney with it. YUM